Introduction
A stay-at-home winner, Home Depot (NYSE:HD) has been one of the best-performing stocks, rewarding shareholders with 86% capital returns and a 10% dividend boost. As we enter 2022, with numerous macroeconomic concerns (inflation, rising costs, etc.) and microeconomic questions (impact of omicron), let's examine where the company stands and whether its strong growth can continue into the future.
Short-Term Outlook
Q3 2021 was a revelation for investors concerned about how the reopening would impact business. Home Depot crushed estimates, posting revenue growth of 10% and EBITDA growth of 18% when compared to Q3 2020 – the heart of the lockdown. However, these numbers, which provide clear evidence pointing to the renovation and home construction trend continuing, weren't even the most surprising part of the report. That award goes to net profit margins, which have seemingly bucked the trend of inflation, rising labor costs, and raw materials pricing.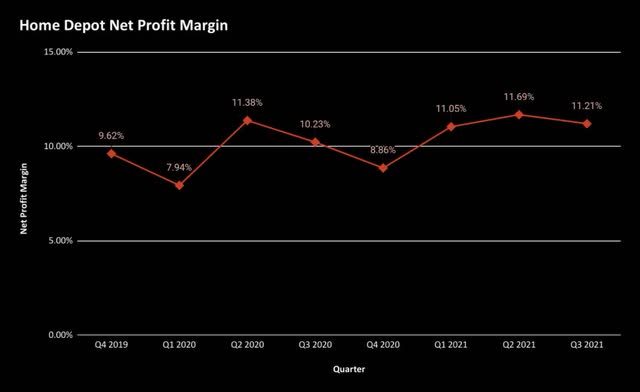 Despite the macroeconomic headwinds, the home goods retailer was able to increase margins when compared to Q3 2020, a remarkable accomplishment and a testament to management's ability to right the ship in the face of tough conditions.
This blowout quarter makes us confident going into the Q4 2021 report and FY 2022 as a whole. With the omicron and delta variants keeping re-opening plans on an indefinite pause, we expect renovations and home goods to drive unexpected growth, especially on the back of record holiday sales and wealthy consumers spending more.
The next part of our bullish short-term thesis lies in the rising home construction backlog. Based on housing data released in December 2021, the gap between new residential completions and new residential construction permits is approaching one of the widest margins during the pandemic housing boom.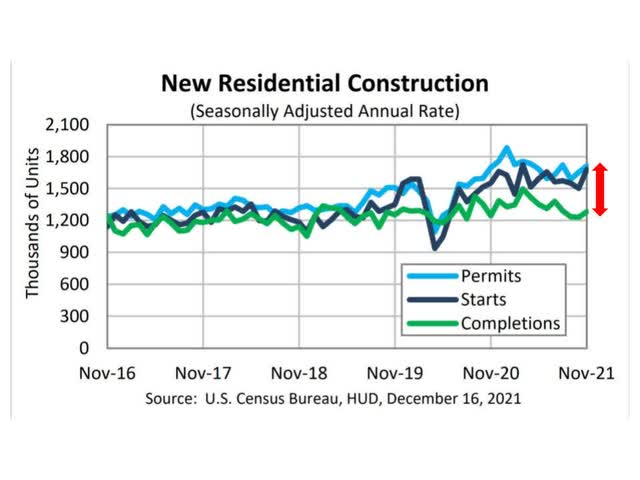 What does this mean? Well, the amount of land being bought and given permission to build on is outpacing the number of houses having construction completed. Eventually, houses will be built on that land, as evidenced by the dark blue line which indicates the amount of land where construction started. As the gap between permits and competitions widens and the amount of starts stays close to the number of permits, Home Depot is virtually guaranteed revenue. Workers will need to either buy/rent tools and equipment, along with various home amenities to complete construction – all of which can be found in the company's thousands of locations across the country. With the backlog of permits and the high number of starts, Home Depot has developed a sustainable, growing revenue stream that will last through the housing boom.
It is important to note that rising home prices and whether a house has sold don't necessarily matter to the company. Home Depot is pivotal during the construction process, providing raw materials, equipment, and amenities. As long as homes are being constructed, things look bullish for the retailer. However, high prices and low home completions do indicate that the housing trend is in its final leg, especially when coupled with federal reserve looking to increase rates. This could pose as a long-term negative and something that could significantly hamper growth – leaving the future in serious question.
A Shaky Long-Term Future
Although we are quite bullish on the company over the short term, the reversal in the housing trend, which is expected sometime during FY 2023, could be tough for Home Depot to overcome. Looking at the same chart, we are headed for a period where completions overtook the number of permits and starts, similar to early 2019.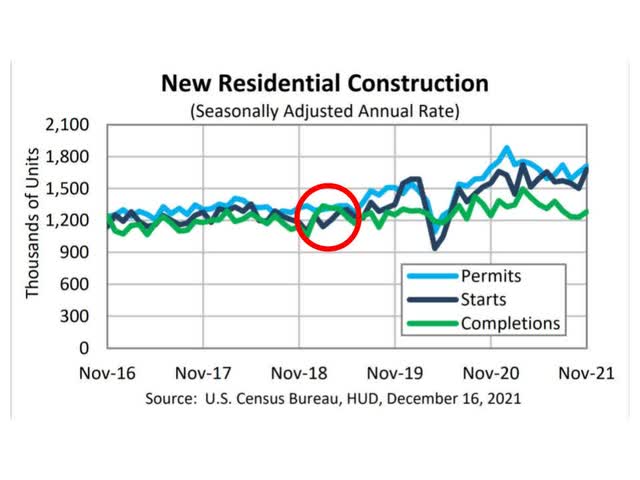 Rising home prices and inflation are pricing many out of the market, creating a supply-demand imbalance. In order to counter this, the fed is looking to increase rates, but when home prices normalize, many interested buyers will be discouraged due to the high mortgage rate. Thus on one end, you have too much supply, and on the other, you have a drop in demand, with no in-between. These signs point to a reduction in both starts and permits by companies – an outcome that would slam Home Depot's revenue and earnings hard.
The end of the bullish housing trend coincidentally aligns with the WHO prediction for the end of the acute phase of the pandemic, which means the virus would slowly transition into a seasonal variant – almost like the flu. This would multiply problems for Home Depot as they would now contend with a sustainable reopening, which would mark a true decrease in renovation and home goods revenue growth. What analysts were expecting the company to report in Q3 2021 would actually come to fruition, a scary sight for shareholders. With numerous fundamental risks upcoming, it will be extremely tough for the retailer to replicate its success – a negative sentiment that will look to take its toll on share prices.
WACC & DCF Model
Using our revenue projections, a WACC of 8.22%, and an EV/EBITDA multiple of 18.86, we found a fair value to be around $400.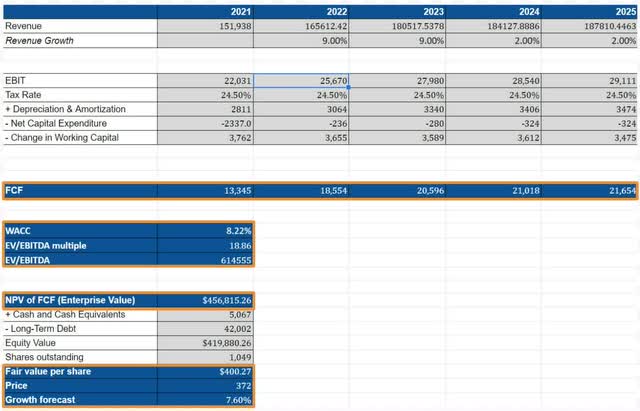 However, this DCF model assumes that inflation-level expenses will remain constant through 2025. If we consider that rates should control inflation and that costs will eventually decline over time, we find a price target closer to $454.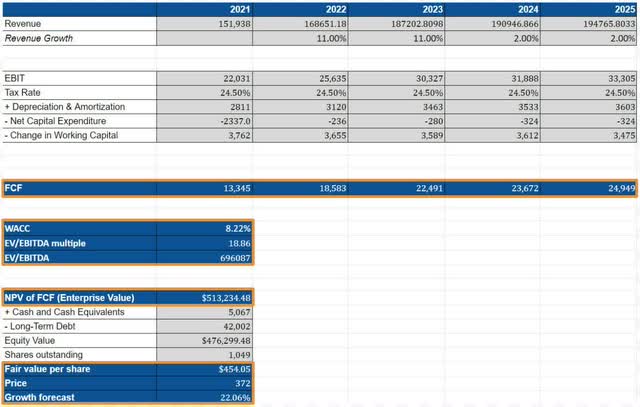 Between a conservative and bullish DCF, we believe both models reflect the fact that Home Depot can provide investors with reliable returns through strong fundamentals and a plethora of short-term catalysts.
Sustainability Scorecard
At North Post Research, we have recognized the importance of valuing companies not only by traditional metrics, but also by their Environmental, Social, and Governance (ESG) goals. In addition to our analysis, we will be adding a sustainability scorecard that grades the beliefs and initiatives of each company. Home Depot's sustainability policies can be found here. Its total average score was 8.
Environmental: 7/10
Taking 3 points off of Home Depot's score was a tough decision, considering they've done everything right. From upgrading about 69% of stores with energy-efficient LED lighting to significantly increasing the number of stores that have solar farms on their roofs, the company is clearly working to build a greener future. Moreover, the company even launched a smart irrigation pilot program that leverages advanced in-ground sensors and AI to conserve water. The program has been so successful that the retailer has been able to implement it into 20% of its stores. In addition to its initiatives, the company has strategic, science-backed goals of becoming 100% driven by renewable energy in all facilities by 2030 and reducing emissions by 50% through the year 2035.
Although we are supportive of all the innovative ways that Home Depot hopes to build a sustainable future, it is the pace by which they are doing so that we take issue with. For example only 1,589 of the company's 2,312 stores have the energy-efficient LED light that they vaunt in their ESG report. To put this in perspective, in our previous analysis on CVS, we analyzed how they had installed LED lights in 100% of stores – they have nearly 10,000 stores. As for increasing the number of solar farms in stores, it went from 49 to 71 – just a measly 3% of nationwide stores. And when it comes to future goals, we've seen hundreds of global corporations commit to being net-zero by 2040, far ahead of anything Home Depot has outlined. The slow-moving nature of the retailer's environmental goals leaves our hands tied as we grade their sustainability efforts.
Social: 7/10
Home Depot's supplier diversity initiative truly embodies the inclusive values they stand by. The $3.2B program works to cultivate a diverse supplier base while helping to support business growth for women, minority, veteran, disability, and LGBTQ owned companies. Not only do they create long-lasting relationships with these smaller suppliers, but Home Depot provides them with opportunities to invest in their education, networking, or capital growth. Working with over 4 diversity organizations, including the National Minority Supplier Developmental Council, the company has become a driving force in promoting more equitable supply chains.
Alongside their innovative initiatives, Home Depot is one of the most transparent companies when it comes to reporting hiring practices and numbers.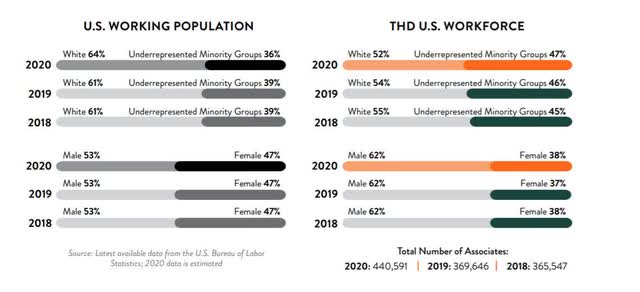 From the data, we see that the company excels in minority hiring, even growing the number by 2% since 2018. And while this percent may not seem high, that's over 10,000+ diversity hires when you take into account the total associates that work at the retailer. The company also releases more descriptive charts which provide a detailed outlook into hiring practices and specific ethnicities.
Surprisingly enough their transparency is also the reason we deducted 3 points from its social score. The data they detail shows that the company has identified a diversity problem at the manager, officer, and director level but hasn't been able to act on it for the past 2 years. The increase in minority and women hires in upper-office positions has been negligible since 2018 and Home Depot's board of directors remains 3:1 male to female and 3:1 white to minorities. The inability to act on these issues and launch more diversity issues poses a significant problem when looking at their social practices.
Governance: 10/10
Ethics has been the name of the game for companies to show their strong corporate governance, and Home Depot has played it best. One of the things that make their board unique is their transparency when it comes to taxes.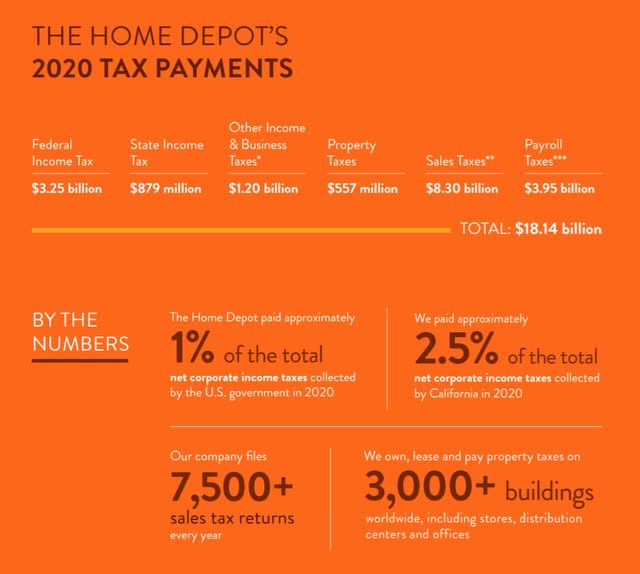 As part of the company's recent focus on supporting local communities, they believe being upfront and paying all taxes is the best way to drive value and symbolize accountability – an interesting method that is better than digging through tax loopholes many companies take advantage of.
Another often overlooked aspect of governance that Home Depot excels in is its ability to remain unbiased and committed to shareholders. The company went through a rough patch of drama when co-founder Bernie Marcus publicly supported Donald Trump during the 2020 election and they failed to "actively support" voting rights in Georgia. However, Home Depot strategically managed both. The latter of the two accusations, which developed into a boycott by church leaders, was debunked when the company revealed it helped sign up over 15,000 minority associates to vote. And the former, which was characterized by many falsely claiming buying at Home Depot was a "donation to the republican party," came to a crashing halt when management released their political donation data.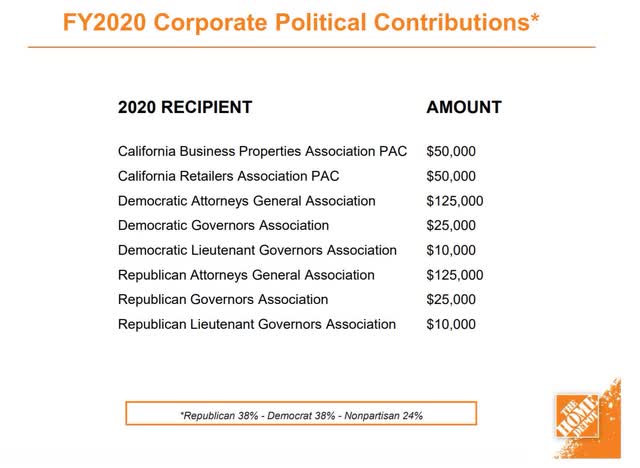 As we can see the company donates equally to both parties, 38% to Republicans and 38% to Democrats. Understanding that shareholders and investors come from many political ideologies, they needed to stay unbiased and solely focus on how to grow the company and return value. This is why they were able to handle the Bernie Marcus situation so well and is emblematic of why they earned a perfect score.
Final Thoughts
Over the next few quarters, Home Depot looks like an attractive buy with numerous tailwinds to back growth. With market volatility expected through 2022, the stock can provide stable returns in investors' portfolios. However, as we move from the short-term to the long-term, its position in portfolios must be heavily scrutinized as risks emerge.
https://seekingalpha.com/article/4479990-home-depot-hd-stock-cloudy-long-term